Print, Copy, Scan, Fax and Email, all from one printer- the HP Color Laserjet M479fdn
nWinning in business means working smarter. The HP Color Laserjet M479fdn is designed to let you focus your time where it's most effective-growing your business and staying ahead of the competition. HP Office Laser Multifunction Printers are designed for SMBs and small workteams in larger companies, delivering enhanced productivity, simplified workflows and reduced costs.
n
nDynamic security enabled printer. Only intended to be used with cartridges using an HP original chip. Cartridges using a non-HP chip may not work, and those that work today may not work in the future.
n
Built to keep you—and your business—moving forward
nScan files directly to Microsoft® SharePoint®, email, USB, and network folders.
n
n
n
Help save time by automating all the steps in a complicated workflow and apply saved settings.
n
n
n
n
nConnect the HP Color Laserjet M479fdn to the network and complete customization through the Embedded Web
n
n
Print effortlessly from any device, virtually anywhere, to any HP printer—securely through the cloud.
n
n
n
To enable HP Roam, some devices may require firmware to be upgraded and an optional accessory to add Bluetooth® Low Energy (BLE) beaconing capabilities. Subscription may be required.
n
Best-in-class security–detect and stop attacks
n
n
Based on HP review of 2019 published security features of competitive in-class printers. Only the HP Color Laserjet M479fdn offers a combination of security features that can monitor to detect and automatically stop an attack then self-validate software integrity in a reboot. For a list of printers, visit http://www.hp.com/go/PrintersThatProtect. For more information: http://www.hp.com/go/printersecurityclaims
n
n

Help ensure security of confidential information with optional PIN/Pull printing to retrieve print jobs.

n

Pin printing enabled via USB installed in rear of device.

n

Optional HP JetAdvantage Security Manager lets you set configuration

Thwart potential attacks and take immediate action with instant notification of security issues.

n
n
Instant threat notifications can appear on the device control panel when a potential threat occurs from malicious intent or there is a bug or vulnerability in the firmware code of the device. If this error raises concern, please contact your company IT representative or, if unavailable, HP Support, who can investigate the cause through analysis of the HP Color Laserjet M479fdn printer's syslog data using a standard SIEM tool from McAfee, Splunk, Arcsight or SIEMonster. The control panel error message may show an error code on a blue screen during code signature checks or memory write intrusions.
n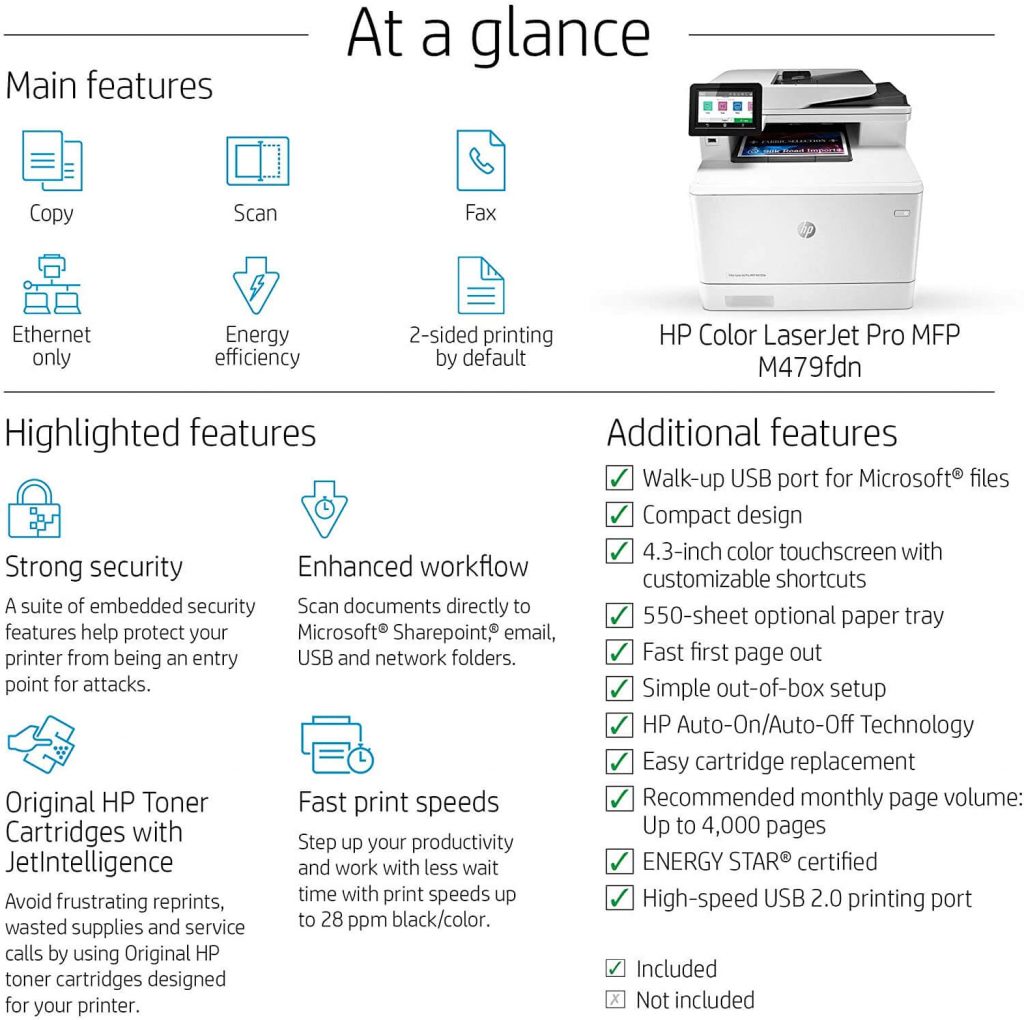 n
The HP Color Laserjet M479fdn is simply designed to uncomplicate your day
nSet up this MFP fast, and easily manage device settings to help increase overall printing efficiency.Tackle tasks quickly and easily—with the simple 4.3" (10.9cm) color touchscreen.Print Microsoft® office formatted files in addition to PDFs right off your USB drive.
n
n
nFeature works with Microsoft Word and PowerPoint 2003 and later. Only Latin language fonts are supported.
n
n
Avoid interruptions with the HP Color Laserjet M479fdn designed to be streamlined for maximum productivity.
n
n
n
Sustainability is smart business with the HP Color Laserjet M479fdn 
nAvoid frustrating reprints, wasted supplies, and service calls using Original HP toner cartridges. Help save paper right out of the box. The duplex print setting is set at default paper savings mode.
n
Dependent upon country
setup specifications
. All new product introductions beginning in Fall 2019 will include consistent worldwide default duplex settings (across bundles/drivers); Spring 2019 will include consistent worldwide default duplex settings for most products across the most common drivers
n
n

Saves up to 18% energy over prior products.

n

Based on HP Internal testing using normalized TEC Value, 2019.

n

Help save energy with HP Auto-on/Auto-off technology.

n
nMke your order of the HP Color Laserjet M479fdn  and have it delivered to your home or office within 24 hours in Kenya? Call 0726032320 or order now and have it within 2 hours in Nairobi.